Vocal Coaching/Singing Lessons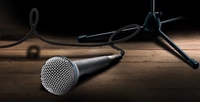 Whether you want to sing for fun, prepare for an audition, work towards LCM exams or gain some technique tips, private vocal coaching/singing lessons are available to children and adults with a desire to sing both children and adults. A class will include a warm up, discussion and work on selected a song(s) and can be 30 mins to 1 hour. Vocal technique is also explored within the class using exercises suitable for the age of the student. This includes work on breathing, pitch, range, diction and projection. Musical Theatre singing examinations with London College of Music are available.
A glee-style singing group for all ages takes place at Earlsdon Methodist Church Hall on Wednesdays at 7.15-8pm.
Classes available for both Children and Adults